Alex writes about Ford v Ferrari, Knives Out, and 2019 in film.
There is much to like in Ford v Ferrari: there are laughs, capable filmmakers operating at the height of their capabilities, and Christian Bale giving (possibly) a career-best performance, among other things. It is debatably the greatest dad movie of all time, the Creedence Clearwater Revival of cinema. But beneath all those simple joys lies the thread of artistic push and pull, the thread that quietly runs through all films but louder in this particular picture, the battle between capitalism and the artists who need money to create their art.
This is not stuff you need to look too deeply into Ford v Ferrari to find; it's quite surficial. After all, a direct descendant of one of the most famous goddamn capitalists of all time is a central character in the film, sitting on the sideline funding our heroes. Ken Miles and Carroll Shelby, Bale and Matt Damon respectively, are the people who need money to do what they love, and they are constantly fighting to keep what they thought had been promised to them as the capitalists try to take it away from them. And, of course, at the heart of it all is a failed corporate takeover, and the desire for one millionaire to humiliate another because of said failure. (Not to mention that in the end, the final finishing order of the Le Mans race is essentially decided by Ford's marketing department, because marketing departments are the worst.)
As we are constantly reminded of, by reports of grosses and the confusing glee derived from cinematic Jellicle bombs, filmmaking is a business, and from afar it seems the business side of the coin is even more important today than at any time in the past. At this point, it feels as though pretty much the only films a major studio will fund outright are those with the ability to gross $1 billion. Because of this, Ford v Ferrari feels like an outlier in many respects: it feels like a movie that could have been released decades ago and seemed like any other movie, but when released today that same movie somehow feels like a breath of fresh air. It's a studio movie that features multiple movie stars, a director of pedigree, a murderers' row of supporting players, and the polished sheen that can only come from a film crew that doesn't need to pinch pennies too egregiously to tell its human story. These professionals (probably) made their full rate on this picture, and the end result is proof of their collective worth.
At the beginning of the road to Le Mans, Carroll Shelby – a racer forced to retire for health reasons – is approached by Ford's Lee Iacocca to build a car that can beat Ferrari. Shelby is promised many things, like money, his choice of driver and probably some other stuff I'm forgetting, and then throughout most of the movie Shelby has to fight simply to keep what he was promised. When Josh Lucas' Leo Beebe grows to dislike Shelby's choice of driver, Shelby has to fight to get Henry Ford II to overrule him. When Ford's promises turn out to be temporary, Shelby has to perform another gambit to gain Ford's confidence again, this time driving so fast it makes The Deuce shit himself.
Even once the race starts, the annoyance continues, with Beebe proposing (and Ford approving) a mid-race suggestion that Miles slow down to allow the three Ford cars racing to collectively win in a tie, a once in a lifetime photo and advertising opportunity for the company. This whole process is as frustrating to watch as it reads, and a thrown cup of coffee shows how little patience Shelby has left to deal with it.
Now, I have never made a film for a studio, and I never will. I don't know what it's like to work with somebody like 20th Century Fox in an effort to get my creative vision to come to life. But James Mangold sure as shit does. And it's hard to imagine a scenario where Mangold doesn't see a little bit of himself in Ken Miles, and just as much in Shelby. Perhaps he sees one of his producers as Shelby, protecting Mangold from all the marketing bullshit that the conglomerate funding the enterprise thinks is a good thing to mention in the middle of production but is, in reality, totes dumb.
"Just let the man drive the metaphorical car, goddammit," you think, "And maybe you'll win the race." Interruptions and excessive added notes and the elimination of individuality sure aren't going to do that.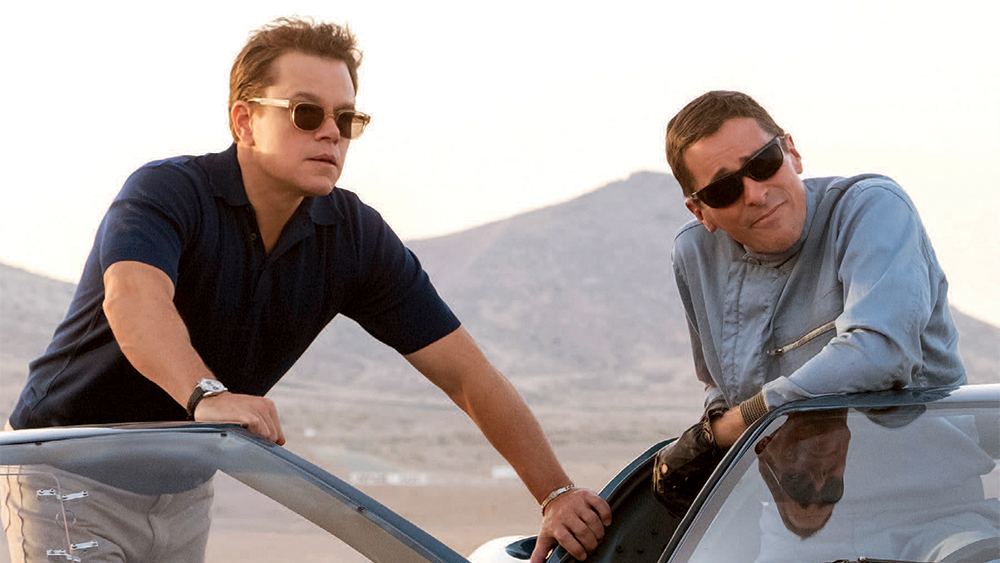 This is the part where I remind you of what tends to be forgotten amidst the fog of online reactionary cinematic content: human beings make these films. Craftspeople whose lives are put on hold to tell a story, a story that may or may not be seen by a big audience, a story that might fail in a way that could stop said craftspeople from ever being able to tell another one. Like the film crew behind the scenes, the team of engineers and (insert car job words or whatever) are lead by the man whose job it is to handle the person paying them all, a man whose job it is to keep them away from any struggle that has nothing to do with the finished piece of work.
The best scene of Ford v Ferrari comes as Ken is explaining to his son his vision of the perfect lap. Sitting on the edge of his son's bed, Ken explains how he would navigate the course in a way that would give him the best possible result, even though throughout the scene it somehow feels like the win itself might not matter to him.
The look in Bale's eye shows just how much Ken cares about achieving this feeling, but the rest of the movie does nothing but reveal how little anybody else around him does. The perfect lap is for the people around you who may or may not notice it, sure, but much more importantly, the perfect lap is for you. The marketing department will take the win away from you, but they can't take away what they're too idiotic to recognize as the true success.
Speaking with James Mangold on the Indiewire Toolkit podcast recently, host Chris O'Falt brought up the moment late in the film where Ken comes to the mid-race decision to slow down to appease Ford, a moment that is told entirely through Christian Bale's facial expressions. Mangold took it from there. (The quote has been cleaned up by me, but the context remains unchanged.)
The moment I shot that take on Christian, I suddenly realized that the movie was going to work. We exist in this crazy universe making movies where you are spending ungodly amounts of money – whether they're a lower budget movie or a higher budget movie, one way or another it's millions of dollars – on a hunch that something's going to work. The most beautiful part about the experience of making movies to me, still, on my tenth feature is that moment you know that it's coming together. The gamble, the alchemy of the actors chosen, the space they're in at this moment of their lives, the script, the story, the shooting strategy, whatever it is that there's some alchemy that's allowing these moments to happen.

I think it was John Huston who had this expression, that you know a great film only really needs three or four great scenes. I've always thought about that you know what he's really saying is that even the greatest films have some mediocre or okay scenes but they have three or four scenes that just kick ass. They lift all boats. I'm always making a movie going 'ooh, we caught one. We got one of our four.' And that moment with Christian was a movie-saving moment because it had to be. He had to catch some kind of magic in a bottle in that moment.
When you're somebody like Christian Bale or Matt Damon on set of a big studio film to be released during awards season, you know there's eventually going to be a digital mountain of conversation about your film, much of it specifically focusing on your work in it. The same is true of Mangold, and in even more niche portions of the internet perhaps Phadon Papamichael. But as long as you enjoyed making it, maybe the rest will turn out okay. If you're excited about it on set, maybe the process is worth it regardless of the final product.
"At this stage in our careers, we just wanted to have fun," Damon said to the Hollywood Reporter, while discussing the making of the film. "What we want now more than anything is for people to see it."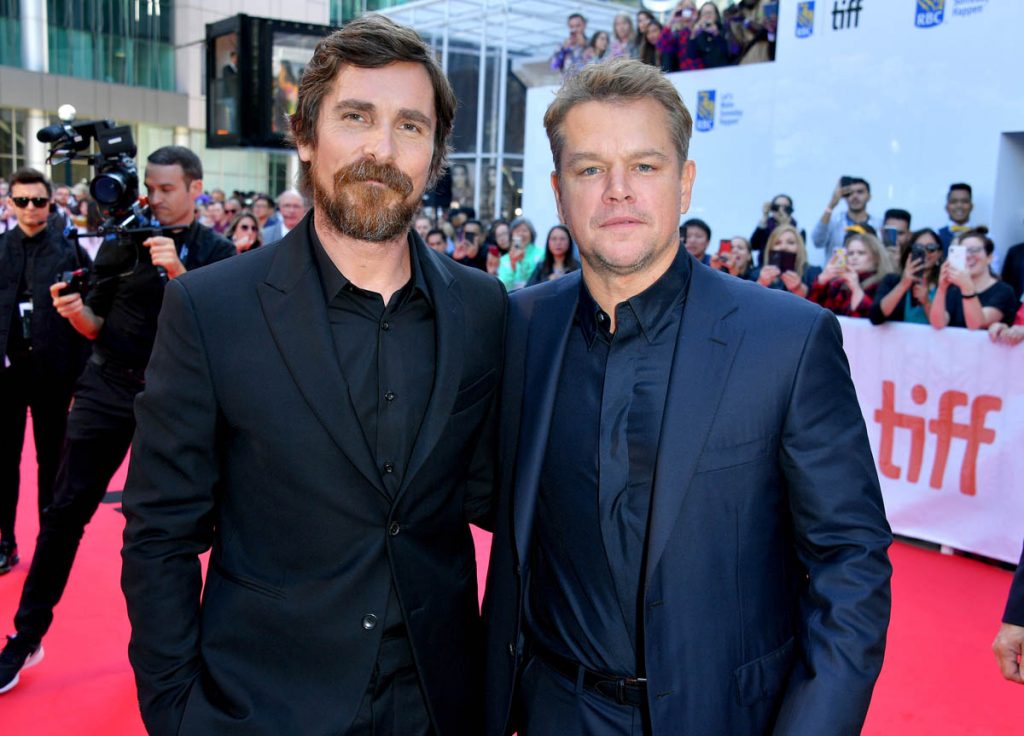 This seems about as good of time as any to mention that Ford v Ferrari was one of the last films fully funded by 20th Century Fox before its merger with Disney. The idea had been gestating for a long time – first with Michael Mann, and then with Joseph Kosinski – but after James Mangold had turned Logan into a critical and financial success, he convinced Fox to let him take a stab at it. If you listen to Christian Bale tell it, he seems to think the coming merger helped propel Ford v Ferrari into existence: "The unknown of what was about to happen and who would have a job invoked an attitude of 'Let's go out with a bang!'" the Baleman said, again in the Hollywood Reporter. "That's what finally got this movie made. It had been around for a while."
It seems odd to paint anything owned by Fox as even vaguely heroic, but I suppose that is how unlikeable Disney is. 20th Century Fox has a much more diverse cinematic history than the Mouse House, and watching the latter swallow up the former can't possibly be good for cinema in the long run. Disney has no history of making films like Bad Times at the El Royale, a 2018 Drew Goddard film that certainly wasn't great but was at least interesting and creative and distanced itself from the norm. Disney, as we all know, prefers the comfortable inoffensive sameness of a collection of mediocre films to a group of some failures and some mild successes. Losing movies like Fox's 2016 comedy Mike and Dave Need Wedding Dates is no real loss, but losing the mindset that allows that film to get produced probably is. Where is the home for Ford v Ferrari going forward? Or Fox's Ad Astra from earlier this year? This, combined with knowing that my ability to re-watch Barton Fink is now controlled by theme park operators, fills me with more than a touch of existential dread for reasons I can't quite articulate but I know are worth examining.
Over the past year, when I write about movies, I have noticed I tend to dip more into historical analysis of a media figure than any new, specific movie. First Man comes out and I watch every Ryan Gosling film, or become obsessed with Michael Bolton or Keira Knightley for a while, the eventual goal always being to try to explain the genesis of said obsession. A few weeks later I get as close to the answer as I can, and the piece is finished, the obsession fades. And then I realize that my more historical focus lining up with a dearth of the types of modern films I used to write about can't possibly be a coincidence.
I used to write pieces like today's more frequently, jumping from film to film like so many cinemas, typically because a piece like this tends to be inspired by seeing four or five new release films in a single day. Writing this sort of essay comes less frequently these days, as do the movie days, and I'm certain these facts are related. Going to five movies in one day is more difficult as the release calendar becomes tailored further and further away from one's direct interests. But within the last month, it has almost became hard to keep up, even for somebody like myself who is frequently able to hide out in a theatre from noon to midnight on the occasional Wednesday. Dark Waters, 21 Bridges, and (a second viewing of) Honey Boy have been taunting me for weeks, and one of those films is directed by the auteur behind one of my all-time favourite films. The piece you're currently reading is the direct result of a day seeing Ford v Ferrari, followed by The Report, followed by a rep screening of Who's That Knocking on My Door? and a few days later catching the quadfecta of Waves, Queen & Slim, Knives Out and A Beautiful Day in the Neighborhood. When you sit in a chair for 10 hours watching movies with nothing in between but a brief break for a sandwich, you tend to think about ways those films do or do not connect to one another.
These movie days still exist, they just seem to exist in a more compressed timeline. For some reason that may (or more likely, may not) be founded in logic, movie distributors tend to release films for people like me at this time of the year, because the awards season brings expectations that good movies are being released to people who would rather spend summer days playing Frisbee in the park (or whatever normal people do). Theoretically, though, this must mean some movies get their toes stepped on by others; I can only assume Ford v Ferrari and Knives Out's separate successes tramples on some money that could have gone to something like A Beautiful Day in the Neighborhood. The mid-budget studio film has become tied to the awards season, because the content machine tends to give a movie an extra conversational bump during awards season, because content generator automatons love nothing more than talking nonsense out of the side of their mouths about what will or won't happen with awards. Adults have come to anticipate they only need to go to the movies for three months a year; this is why me getting anybody in my life to see a May release of Tully last year felt like running a full court press for the entirety of a basketball game. But I saw Tully, loved Tully and (still) want to talk about it constantly. I suppose the real question is: if a film screens in a forest of obscurity, does it eventually get discussed enough to make a sound?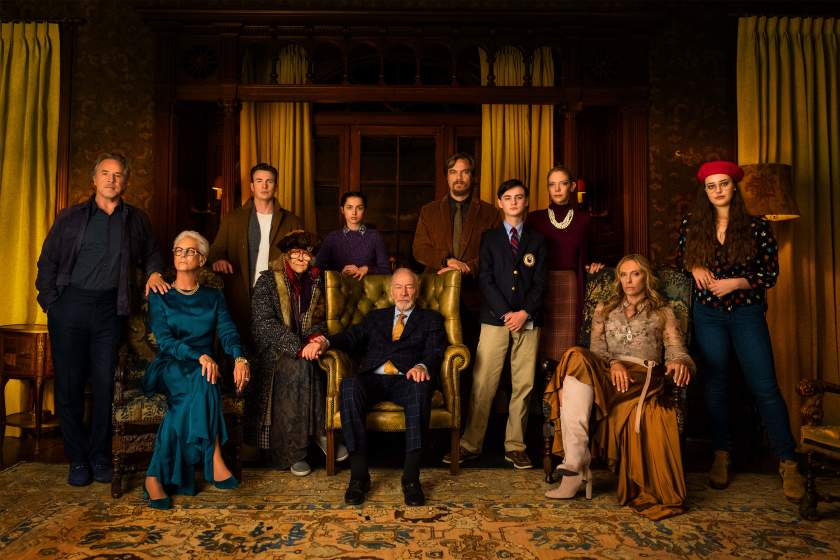 Knives Out is another crowd-pleasing film in cinemas now, a whodunit orchestrated by longtime MacGuffin Men favourite Rian Johnson. Speaking to James on our podcast about the film, I described my joy sitting with a crowd watching the film and, each time, loving to hear as the crowd begins to register just how funny this movie is going to be. It's always fun to watch a film like this with a crowd, and Knives Out just so happens to be a particularly pleasing example.
In a conversation with The AV Club's Katie Rife, Rife poses Johnson with a question about what he would do if he stopped having the opportunity to get his movies made.
First of all, I don't think I would ever stop making movies. That's the main thing. Take Brick for instance. I wrote that when I was right out of college, and I didn't make it until I was turning 30. So for most of my 20s, I was just failing to make it. And as I got later and later in my 20s, I had a feeling of, "God, this probably won't happen." [It got] to the point where I really had to [tell myself], "I'm not going to be a miserable bastard the rest of my life because I didn't get to do exactly what I wanted to do. I have great friends, have a great life, I can still make money."

I guess the answer is I would keep making movies, I would just do them with my friends. And that, in a way, scratches the same itch making something like [Knives Out]. I don't know how that sounds, saying that, but it is genuinely true. I think making something with a few friends and then showing it to your buddies in many ways is just as satisfying as making a feature.

And the truth is, anything outside of the scope of seeing what you can see, in terms of people reacting to the movie—it all becomes very theoretical. There's no difference in terms of the feeling of doing [Knives Out] and doing a Star Wars movie for me. I can go into a few theaters and see people reacting to the movie. I can have a few experiences with people telling me what they thought of it. But the idea of billions of people seeing it? That's so abstract. It's not like that makes it more rewarding, or something.
The conversation matters not, only the process.

In December 2011, David Denby broke a December embargo on his review of David Fincher's The Girl with the Dragon Tattoo, causing a lot of online consternation and a volley of emails between producer Scott Rudin and Denby. The critic's argument was that all the good films for adults get pushed so late in the year, which the New Yorker only has two issues to cover, so he wanted to give his positive review of Dragon Tattoo the space it needed. Rudin, on the other hand, felt aggrieved, claiming Denby had hurt the film's chances at success. The whole thing, on both sides, was stupid, as there's no way what Rudin said is true, and the published review was three fucking paragraphs long so Denby's reasoning was equally silly. This was a truly idiotic hill to not be invited back to press screenings on. For people who like to see movies, and like to talk about those movies, though, the basic idea behind Denby's argument rang true: why compress the cinematic schedule in a way that makes it difficult to digest everything?
Fincher's own response to this whole thing was appropriately cutting: "Ultimately, movies live or die by word of mouth anyway. All that other stuff doesn't matter." Unsurprisingly, the man who directed Fight Club hates marketing, and he hates press screenings. Fincher is in the camp that, no matter what happens in the press cycle, people are going to trust their friends. There is no cinematic opinion James trusts and understands more than mine, and the inverse is true. Your associates will always decide what films you see more than the critics ever will. All that matters is having something worth talking about, whether or not the conversation ever actually comes.
In the last summer of our previous decade, in 2009, I wrote a piece about whether or not movies were really worse than ever, because this conversation exists at all times. It has been lost in the sands of the internet, but the general idea was as follows: cinema always seems generally shitty in the present, but then time passes and (assuming you're not Quentin Tarantino) you forget all the mediocrity, remembering only what stuck with you, the truly great (and admittedly often the truly awful). At the time, I went through the history of Hollywood in the 1970s, pointing out all the shitty movies where Clint Eastwood befriends an orangutan that we have chosen to forget when we speak about The Godfather Part II.
So here are a couple of doses of reality: I have, within the past couple months, seen a lot of movies that I really loved. Below is a short list of new release films that I have seen since the end of October, all of which I felt passionately towards.
Parasite
Ford v Ferrari
Honey Boy
Knives Out
Marriage Story
The Irishman
The Lighthouse
A Beautiful Day in the Neighbourhood
Uncut Gems
These incredible films still exist. I'm of the mind that 2019 will end up as a historically great movie year, regardless of the direction the conversation currently sways. I trust that I will be able to find the cinematic voices I need in my life, because I love movies so much that I will always be desperate for them. They will find their ways to me, if only out of necessity. The movies aren't disappearing yet, and if 2019 is any indication of the future, they could be multiplying. But the conversation is harder to have, because there are fewer people willing to look as I do.
Here's another dose of reality: realistically, there was never really a time in my life where I could talk about all of these movies with one person, not even James. The last time I could converse about pretty much every movie I had seen recently was in high school or university, when I had significantly less diverse interests and it was significantly easier to find free time with a group of people. DVDs were passed around, and friends were dragged to the cinema. It was easier simply because the people in my life had more free time, which is something that's certainly never coming back. I don't miss the great movies, I suppose, because the great movies clearly still exist. I miss the conversation, a conversation I find harder and harder to grasp as time progresses, even though it's entirely possible this conversation I'm imagining never really existed in reality. The reality is I'll never find somebody who truly cares about all this shit as much as I do; I'm hoping to go back to a time when I knew a person I never actually knew, to have conversations that never existed.
As such, I go back to the same thing I always wonder: why am I writing these things anyway? There is no tangible reason driving me. I have never earned a cent for writing them, and at best there has only ever been one person reading these. And yet, I write, not because the results are so satisfying, simply because this is what I feel compelled to do. I'm only writing about movies because I'm still finding movies to write about. I still love them, and I love whatever this process is. For somebody with an audience of zero, that's truly the only explanation. When I stop writing about new films entirely, that's when I'll know I'm in trouble. But not today.
I go back to what Rian Johnson says about the negligible difference between watching Star Wars with an audience and watching Knives Out with one. I go to Matt Damon talking about making Ford v Ferrari, just wanting to have fun. I go to Christian Bale, as Ken Miles, talking about the perfect lap. And I realize the perfect lap isn't for other people, because you'll never get everybody to agree with you anyway. It's your job to accept the world as it is and adapt to it in a way that will give you satisfaction for how you navigated it. There are certain things you can affect, and infinitely more you cannot. This is the world, and you're stuck with it. As long as you can still shut out all the idiots for a couple hours at a time, it's not as bad as you might think.