Alex writes about Dan Harmon's firing from Community, and why you shouldn't get all pissed at NBC.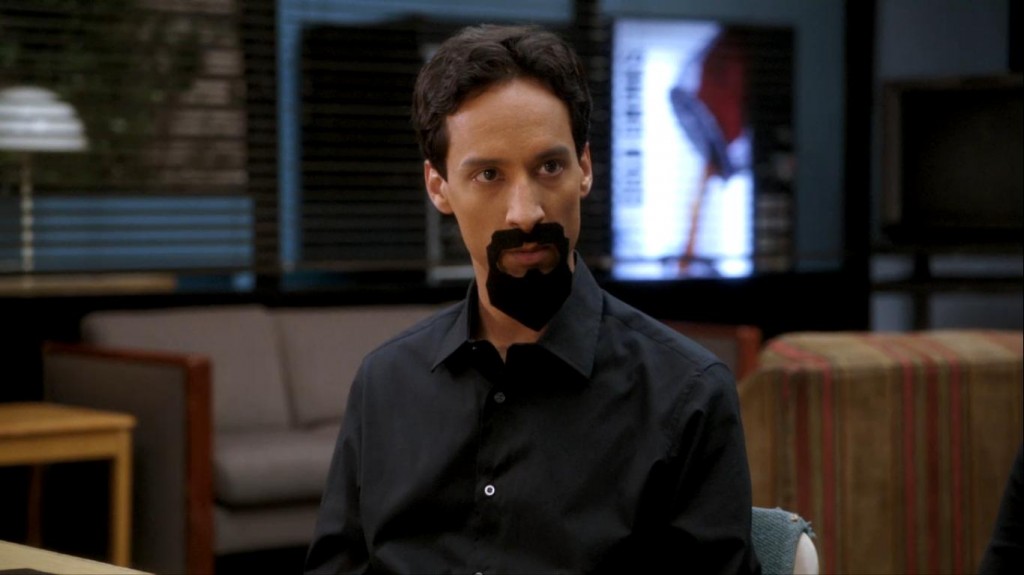 This past Thursday, Community's wildly inconsistent third season ended with three consistently mediocre episodes. The next day, the show's creator and showrunner Dan Harmon was fired by Sony Television, a decision that network heads at NBC seemingly did not oppose. The nerd community took to the internet's version of the streets, loudly opposing said firing and sticking up for the creator of what has become the collective favourite show of people like myself (read: people who post opinions online about television producer firings). However, I was not moved to add to the outpouring of Harmon support mostly because – in this instance – I'm kind of on NBC's side. I recognize that it's never cool, much less coolcoolcool, to support a large media conglomerate in their evil efforts to crush the Artist's Uncompromising Vision, but one only has to think back to this past season of Community to realize that it might be the best decision for the show.
When Community began, I loved it pretty much immediately. James sent me an email the day after the pilot aired, saying it was something I would find worthwhile. I loved it immediately, starting to watch all the show's first season episodes as they aired, and then semi-obsessively rewatching them while awaiting the next week's entry. (Keep in mind, this is a show with a pilot that featured Chevy Chase, copious John Hughes references, and a Bill Murray-esque lead character who is even kind of named after the second funniest character Bill Murray ever played.) And even apart from the comedy aspects of Community, the show was instantly engaging in a way no comedy pilot had been since 30 Rock. Community was an expertly staged show, with good tracking shots and walk and talks, and Ludwig Goransson's borderline perfect score remains the most underrated aspect of a show with a lot of comically underrated aspects. Everything about the show was enjoyable: it featured a good ensemble, an absurdly charismatic Donald Glover, and it also had Abed Nadir. Community was a show that was built on media references, and it was also the first time a show like that also featured a character who continually went out of his way to point those things out.
In the show's eighth episode*, Community's now-trademark ambition started to become apparent, as Abed/Batman rescued Cowboy Jeff and Pierce/BeastMaster from a collapsing study room fort built by Pierce's acid trip. As Abed closed the episode with some Batman-style narration, it became clear that this show was never going to shy away from using scenes, or even whole episodes, to create homages to other great pieces of media. This took a further step up with the season's twenty-first episode, based entirely around making chicken fingery homage to mafia movies like Goodfellas and The Godfather. The Community that we recognize now starts in earnest with this episode, and that episode's clever ambition continued with its action movie tribute two episodes later, Modern Warfare*. The following season continued to build on this ambition, with episodes that made the study group astronauts, documentary subjects, Quentin Tarantino creations, and various stop-motion animated Christmas characters. And Community remained pretty great in both its visually ambitious and thematically ambitious episodes alike, with the bottle episode and clip show episodes remaining two of the series' highlights. But then, you know, the third season happened.
*Both of these episodes were directed by Justin Lin, who helmed the last three Fast & Furious movies. In particular, Modern Warfare really benefits from his action movie experience, as the actual gunfights were widely received as "totally badass." Lin also directed Interpretive Dance in the first season, which has a great climax despite being more restrained than Lin's other two entries.
Community's third season has been, to say the least, disappointing. Its ambition is still present, but what has changed is that this ambition has turned the show into something that is only sporadically good. In its twenty-two episode third season, Community had only three episodes that were up to its previous standards, and at least five that were kind of awful. In between was a lot of mediocrity, with good episodes getting sidetracked by awful moments, or mostly awful episodes being rescued by one or two great moments. Despite all of this, Community fans still seem to love the show with the same fervor they always did, and the nerdier corners of the internet collectively rage vomited when the show was put on hiatus in December. The show eventually came back, with some good and some bad episodes, before the season crawled to the finish line last week. And now it's getting brought back for a fourth season, albeit a thirteen episode one that will air on Friday nights (where Ugly Bettys go to die), all without the man that ran the show for its first three seasons.
Dan Harmon has been a notoriously headstrong creative mind throughout Community's run. He has been outspoken on social media, and allegedly even put a joke in the bottle episode about a Twitter follower who did not enjoy the show. There was also that odd, recent beef with Chevy Chase calling Harmon's show a mediocre sitcom, despite the fact that Chase was making these comments about a show that currently actually is a mediocre sitcom. And while people that are dicks to Chevy Chase tend to have valid reason to do so, it's not hard to hate Harmon either. His self-congratulating presence on the DVD commentary tracks of Community's earlier seasons are irritating to the point that they're impossible to listen to, and he is generally somebody who feels that what he is doing is Important. Of course, a big part of this is that Harmon does seem to be quite a bit like Abed himself in personal interactions, something a September 2011 Wired profile outlines, and his Winger-like defense mechanisms certainly don't help him seem more likeable. But his insular, obsessive method of thinking is also likely what lead to where the show is today: formerly great, currently not so.
Despite Community's decline in quality, there are other reasons to support NBC in Harmon's firing. For almost a decade now, NBC has shown a great amount of respect to good comedies that don't find the ratings to match. Sometimes this would eventually work out for NBC financially, like when The Office grew into a cash cow, but more often than not shows like Community and Parks & Recreation get picked up for another season simply because the network felt they were good enough that the show deserved to live on, regardless of how many people watch it. NBC is the place where 30 Rock, a perpetually underwatched show, is currently preparing to enter a seventh and final season, and NBC is probably the only major network where that could happen in the modern television environment. Even Friday Night Lights was allowed to continue much longer than it should have logically, as NBC initially brought it back for a second season out of good faith, and then eventually allowed it to cross over to DirectTV in its third season. Any of the above shows getting an early cancellation would have been a great loss, another show to add to the pile with Freaks & Geeks and Arrested Development, and yet NBC has allowed some of the best comedies on television to continue mostly for the reason that they're funny and clever. I understand why people snap to the decision that NBC is the worst and must be angrily message boarded for firing Harmon, but one has to remember it is NBC that also granted Community a fourth season in the first place. Either they fire Dan Harmon to keep the show from continuing to come in late and over budget, or they cancel it entirely*… either way, you're going to be pissed off, but at least this way you get more episodes of your favourite show.
*Which, when watching the third season finale, is quite obviously what Harmon himself expected. And pretty much everybody else who watches the show expected it, too.
Now, that is not to say Sony Television and NBC have been ideal human beings to the man behind the Human Being, particularly within Dan Harmon's tumblr reaction to his firing. I recognize the network is being shitty to Harmon, but I also recognize that maybe it's for Harmon's own good, and much more likely, the show's best interests. As Todd VanDerWerff explained yesterday at The AV Club, showrunners have difficult lives, and it can lead to a significant burnout, which seems more and more likely to be what happened with Community's decline. And as VanDerWerff also points out, shows can often survive after the departure of their initial showrunner, albeit in slightly different forms.
I appreciate that Community is the only television show currently airing that feels like, at a given moment, anything could happen. If season three had ended with an episode dedicated to reenacting the climactic dance sequence from She's All That, nobody would have been surprised. Similarly, I tend to value something being interesting without necessarily being a great media product more than the average person: despite its egregious flaws, The Adjustment Bureau was still (probably) my favourite movie of 2011 because it engaged me more than anything else did. Community is always interesting, but particularly with something I tune into weekly, it also needs to be entertaining in some way. When the episode about the death of Starburns turns out to be an examination of the stages of grief, I understand why that's interesting, but I also understand that the episode was neither funny nor emotionally compelling. It results in an episode of television that just sort of exists in front of me, makes me mildly chuckle once or twice, and doesn't make me feel anything as it concludes… which isn't much different from the experience of watching a rerun of Two Guys, a Girl, and a Pizza Place.
When the first season of Community ended, I wrote something about the show on a former blog of mine. It was a post that was entirely positive, hopeful and excited that my excursions with Abed would be prolonged past the show's initial twenty-five episode set. But now, had Community been cancelled, I'm not certain I would have been upset. It started to feel like Community had reached its ceiling already, and that its disappearance would be nowhere near as unfortunate as the early cancellations of Arrested Development or Freaks & Geeks. I will always be compelled to watch Community, and I'll always hope that it is good, but now I don't get excited to watch new episodes, and am even moderately surprised when a new episode is good.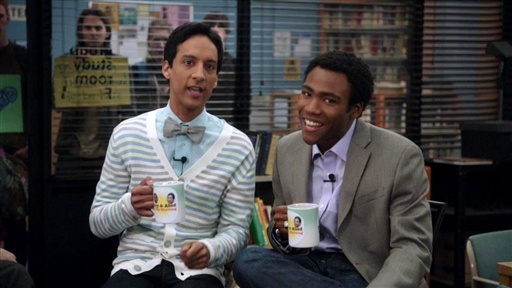 As I write this, I'm drinking out of a Troy & Abed in the Morning mug a friend of mine got me as a gift a couple months ago, a mug that I adore. When I first got it, I brought it to and from the office I was working in to drink out of each day, and I leapt out of bed in a panic one morning when I heard something break in the kitchen, fearing it was my beloved mug. Basically, I love it about as much as one can love an inanimate object, with the exception of that guy on My Strange Addiction who liked to talk about fucking his car. (And keep in mind that I'm fawning over this mug in a season that I have just spent close to 2000 words talking shit about.) What the Troy & Abed mug shows is what myself and all the other Community fans were drawn to in the first place: a show with engaging characters that rip on the media saturated world we live within. Troy & Abed in the Morning isn't about any specific morning show, but that we've all seen a morning show at some point allows us to find it as funny and endearing as it is. If you like Community, and if you're still here I assume you do, you started to like it not because of its extremely ambitious episodes (which don't start until the show is twenty-one episodes deep), but because of the fact that there was a time when it was the funniest show on television, and the way the characters were developed was both interesting and rewarding. We watched the show for Abed, Troy, Annie, and the rest of the study group, and we just stuck around when things started getting crazier. For a decent amount of time that was great, but now it feels a bit tired. And while I don't want the show to change entirely into something that no longer feels like anything can happen, I'm hopeful about Community's remaining episodes.
With Sony Television, and by proxy NBC, taking Dan Harmon off Community, they're not necessarily killing the show; they might rescue it. At this point, Community won't drastically change. The study room isn't going to be replaced by Central Perk, and Abed isn't going to turn into Sheldon Cooper. This is a show that will never be able to be marketed to a mass audience, because it's now established well enough that the people don't care about it know it as that stupid, weird show that they never want to watch. What will probably happen is that Community will be altered slightly next season, going back to what made us all love it in the first place: the characters. The media references were always present (and they still will be), but it's hard to argue the show is at its best when Community is simply being used as a vessel to get to a scene where Abed can recite Bender's monologue from The Breakfast Club. When that occurs organically, it's kind of great, but that organic, human feel has been what's been missing from Community a lot recently. We're getting thirteen more episodes of Community, and barring some sort of unprecedented ratings miracle, that's all we're going to get. Scaling things back a little can't hurt the show much at this point, and it might help it drastically. When the show ends, I merely want to remember Community as something that was good, even if the man who initially helped make it great has nothing to do with it anymore.