Alex breaks from the standard recommendation and suggests you check out a hip-hop album.
We started this podcast and blog on December 10th, 2010. I'm pretty sure by December 13th, we knew it wasn't just going to be about movies. This has only been further proven by our seemingly monthly podcasts about sports and my apparent desire to write about music way more than makes sense. Which, by the way, I'm about to do again.
I don't get as excited about media as I used to. Now I just tend to want to sit around and talk about something I really liked, as opposed to just grabbing a person's arm and yelling, "HOW FUCKING GOOD WAS THAT?!!?" I also don't care as much about hip-hop as I used to. Maybe this is because there is less good hip-hop out there, which is a likely reason that also seems like a pretty big cop out. More likely, I just don't look as hard for new hip-hop music anymore, or I simply care less about hip-hop. My music interests have widened, and while I never listened to hip-hop exclusively, the percentage is far lower than it once was. Whereas high school seemed to involve a lot of tracking down what hip-hop I should know, classic and otherwise, I am now content to wait and see what pops up on message boards I follow*. All of that being said, nothing excites me more than hearing a really good hip-hop record for the first time. This past fall, I listened to a J. Cole mixtape for the first time, and got so excited that I ended up staying up much later than made sense to listen to the whole thing. And while I don't feel as passionately about Cole now as I did on first listen, I still feel like everything is in its right place when I listen to Blu & Exile's Below the Heavens.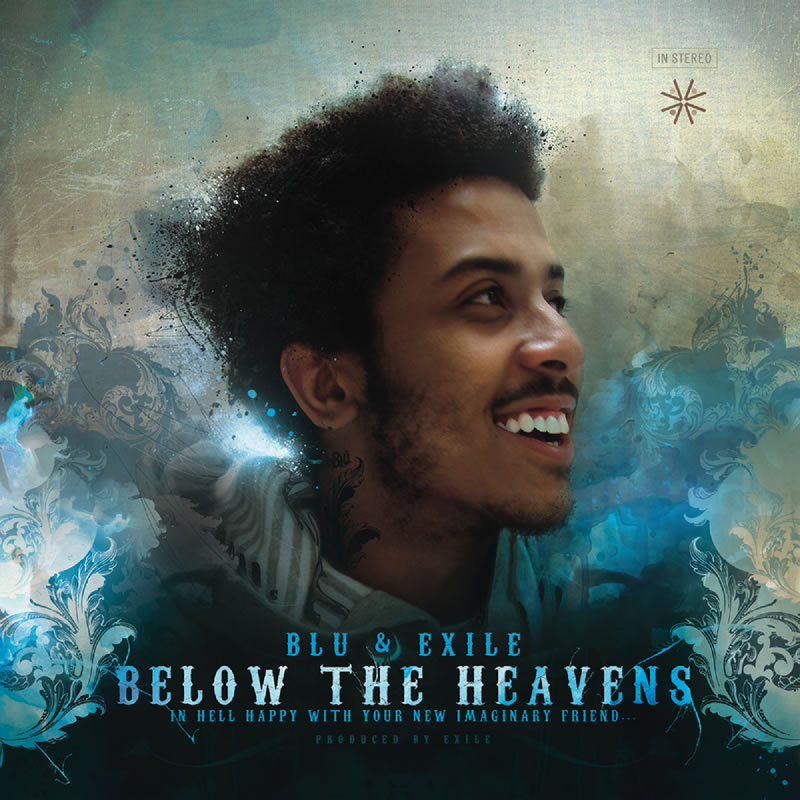 *Of course, that I have now heard every hip-hop record that is generally recognized as a classic doesn't help. Once you can't go back anymore, you basically have to wait for new stuff.
It is unlikely that you have heard Blu rap, except for perhaps his verses on The Roots' last record, How I Got Over*. With producer/DJ partner Exile, the pair put together an album that sounds cohesive (a hip-hop rarity), with consistently great beats, and interesting rhymes. Using beats composed mostly of samples and cuts, Exile provides a perfect backdrop for what Blu is saying. And what Blu says is pretty incredible.
*Blu's verses on Radio Daze and The Day are spectacular, even for him.
I love the beats on this album, but to say that the lyrics aren't the best part of Below the Heavens is objectively false. Blu is clearly technically talented: his flows are often extremely precise while still feeling casual, and he puts as many rhymes as possible in his lines. There are few rappers that I feel like I can identify with, and while I can't identify with everything Blu says (I don't have a kid, I'm not black, etc), there is plenty in here that I just haven't heard a lot of rappers talking about. Blu is interested in aging, his past, and being happy without needing a whole lot of materialism in his life*. He doesn't feel like a rapper as much as he feels like a person who happens to rap, which is shockingly rare. Blu isn't moving through life with the goal of being popular or making money**, he's moving through life while thinking about what is passing by him. Pretty much everything I love about him can be picked out from a line on Show Me the Good Life: "Fuck whips, I learn more when I ride the bus." He doesn't necessarily subscribe to what rappers, or people in general, feel is the proper way to think; Blu is just sort of interested in what works for him. And while the album isn't perfect (Juicen' Dranks is the obligatory not-great track that seems to appear on every great album), it's as close to perfect as music can get.
*Tellingly, Blu apparently turned shrugged off Interscope's interest in order to sign with independent Sound in Color.
**Although he is clearly trying to make a living as a rapper.
Rarely do I get as passionate about a record as I do about Below the Heavens; you don't have to worry about me recommending many more hip-hop records on coming Wednesdays. There was a time where I tried to get people to listen to ATLiens or Labcabincalifornia or whatever record I couldn't stop playing in my headphones at the time, but that time is mostly past. However, every time I listen to Below the Heavens while I'm running errands, I feel like grabbing a passerby's arm and yelling, "HOW FUCKING GOOD IS THIS?!!?" My excitement over J. Cole faded relatively quickly last winter when I realized how repetitive he is; that Below the Heavens still makes me legitimately excited, four years later, while I'm walking to the grocery store means it's probably worth a listen.