Alex apologizes for using the most obvious title choice, and then writes about the prospects of an Arrested Development movie.
Jason Bateman has had an interesting career, although I'm not talking about the career that saw him as the lead in the curiously titled Teen Wolf Too. Bateman has had two separate careers: he's had the one where he actually acts in movies or television shows, sure, but then he has also made a career of kamikaze promotion for an Arrested Development movie. When promoting The Kingdom in 2007, Bateman continually said an Arrested Development movie was definitely happening. During the promotional blitz for Hancock in the summer of 2008, there seemed to be a new article about Bateman's insistence on its existence every other day. His interviews before the release of Up In the Air were mostly spent explaining that the rumours of an Arrested Development movie were, in fact, grounded in reality. I can't imagine him and Michael Cera sat through Juno junkets in 2007 and weren't asked about a Bluth revival. And this past Sunday at the New Yorker festival, that's exactly what we got. With the full cast reunited with show creator Mitchell Hurwitz for the first time since the shooting of the finale, it was announced that the movie is definitely happening this time (!!!) and now with an additional ten-episode miniseries as a setup for that film (!!!!!!). But since I'm a semi-rational human being who remembers things that happened in the recent past, I'm skeptical.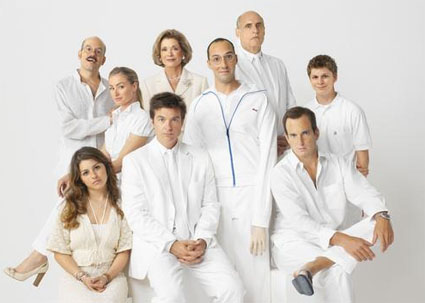 I was amazed at how many people seemed to buy into this news immediately, despite there being no imminent deal on the table. Had Steve Jobs not passed away on Wednesday, the Arrested Development movie would have been the week's most discussed news item on the social media sites I use constantly. It seemed like the news of the movie and miniseries would have been accepted more cautiously, but apparently the excitement of it totally, definitely happening this time wiped away any worries of us getting fooled again.
Now, I would be unquestionably ecstatic if an Arrested Development movie were to actually get made, but I don't ever want to talk about the prospect of it ever again once I finish this post. It will happen, or it won't, but until it does, it's basically the movie version of Dr. Dre's proposed Detox. I won't care about it at all until it actually exists, partially because I'm worried about it hurting the legacy of what came before it, but mostly because I'm just tired of hearing about it.
Arrested Development is the best-written comedy show I have seen with my eyeballs, and I don't think the nearest competition is particularly close. While the show never made me feel any sort of emotion like some of my other favourite comedies, I doubt any other show has ever made me laugh harder, more times than Arrested Development. I still don't let anybody say the word beads (bees?) around me without being furious about it, and I often loudly proclaim that the guy in the $20 zip-up hoodie will not hold the door open for you (COME ON!). And we won't even get into James' obsessive love of the show; let's just say he loves Arrested Development like I love Friday Night Lights… which is a lot. The MacGuffin Men headquarters is a decidedly pro-Arrested Development environment, but I'm also pretty into the idea of using common sense as well.
The idea of a ten-episode miniseries, with each character getting a separate episode, is both interesting and worrying. While this would definitely save some exposition time should the movie ever will its way into existence, the idea of ten episodes of Arrested Development without the interactions of the characters is kind of missing my favourite part of the show. But if there's any show I trust to keep up the legacy of its quality, it's probably this one. I suppose I just don't trust it to actually exist.
I guess it's probably a good thing that I'm one of the only people I know who seems to be questioning whether or not this new development (ha!) will actually happen. Maybe it means that people are generally hopeful for the media they love. But it probably just reinforces how much of what we see in the media is little more than noise. Jason Bateman was only doing those interviews because he had to promote the movie he had previously worked on, and he was using those interviews to hopefully set a movie he really wanted to make into motion. These press junket interviews are theoretically supposed to be for the common fan's benefit, for the people who are interested in the film, but they never are. They're used by actors to promote their movie and then whatever they hope to line up, and then the press uses those repetitive quotes to help promote the movie through their publication. The studio wins, Jason Bateman wins, the publication wins, but we only do occasionally, when the product being promoted doesn't suck. There's no use talking about an Arrested Development movie now; it's all just noise. Let's wait until we actually have something to talk about, and then we can all lose our shit over it. Until then, we're just fueling the fire.