Alex writes about his enduring fascination with Coach's Corner.
Even by my standards, this essay is absurdly niche. This essay is about Don Cherry.
Do you not know who Don Cherry is? That means you are not Canadian (and it also means this piece has already reached a wider audience than I ever could have imagined). For the uninitiated, Don Cherry is a former professional hockey player and NHL head coach, bringing the Boston Bruins to the Stanley Cup Finals in two consecutive years during the 1970s. But none of this really matters, because what matters is Coach's Corner.
Since the 1980s, Don Cherry has worked for the Canadian Broadcast Company, temporarily as an in-game colour commentator before switching over to a segment that was called Coach's Corner. Airing during the first intermission of Hockey Night in Canada*, Coach's Corner is an approximately seven minute segment that is essentially a list of topics Cherry feels like talking about, and these topics are almost comically repetitive. Cherry, dressed in his egregiously flashy suit du jour and sitting next to Ron McLean**, runs through a handful of issues in the form of a seven minute run-on sentence, usually involving a hatred of visors and Swedish defensemen contrasted with a love of Canada and blue collar workers and/or the military and Bobby Orr and the correlation between dressing first class and playing first class. Occasionally, McLean will tee up Cherry (also known as Grapes) with a new topic and, without fail, will tell Cherry he is running out of time. There's never enough time.
*This is a Saturday evening NHL game broadcast nationwide, a slot that is typically reserved for the biggest matchup (not unlike NBA's Thursday nights on TNT). This distinction is essentially meaningless now, but for a long time Hockey Night in Canada was the only hockey the whole country had the ability to watch. Through my research, ratings reported on viewership toward the end of the 1990s stated Hockey Night in Canada averaged 1.4-1.5 viewers a week, which is an incredible number for a country of (at the time) 30 million people.
**Canada's Bob Costas, except nobody hates (or even mildly dislikes) McLean. He might be the most likeable man in the country.
To be fair, Don Cherry has made some good, hockey-related points. He truly is fantastic at breaking down little moments in hockey that are unseen to the average viewer, to those who are not obsessed with hockey. It is clear he cares about the game of hockey like Tom Cruise cares about Scientology. These moments still exist occasionally even today, but they are growing rarer by the segment, which isn't shocking given that Grapes is currently 85 years old. Often when he makes a good point, Cherry mumbles a name and/or a key concept, making the point harder to understand. But as somebody who has a layman's understanding of hockey, I do appreciate the wisdom when it gets through; now that I can translate his version of English, Cherry frequently points out something valuable in a hockey game I never would have noticed otherwise. And as a lover of unintentional comedy, the segments that begin with a close-up of Cherry family silver that he brought from home to encourage us to respect Queen Victoria make me laugh uproariously.
Nobody I know seems to understand why an 85 year-old man who almost exclusively spews nonsense is still given such a platform, but until the platform is removed I'll watch every speech given from it.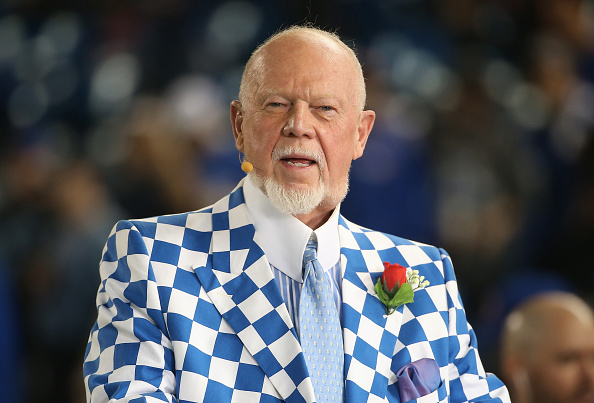 The genesis of Coach's Corner came out of simply finding Cherry a place to be on television. In 1980, after a poor showing as a colour commentator – Cherry would openly root for certain teams – and the segment was created simply to house him for the remainder of his contract. Originally working with Dave Hodge, who was replaced with Ron McLean in 1986, Cherry began barking from the place he can still be found today. From there, there have been comical ups and xenophobic downs*, but the segment has remained a certain kind of entertaining all the while.
*A fact about Don Cherry: as the owner of the Mississauga Ice Dogs in 1997, Cherry declared he would only draft Canadian born players. He said he would accept foreign-born players who took up Canadian citizenship, and finally relented on the policy in order to improve the quality of the team's players.
Speaking in MacLean's magazine in 1999, Hockey Night in Canada executive producer John Shannon said about the segment that, "The interesting thing about 'Coach's Corner' is that we set out to create intermissions that were entertaining," Shannon said. "What we've done is create programming that is actually more viewable than the games."
Cherry's broadcasting career is littered with instances where he sent (justified) outrage throughout Canada (and a large handful of more instances on YouTube that never caused the fervour they likely should have). He has insulted ballet dancers, referred to Canadian Olympian and Nagano flag bearer Jean-Luc Brassard as "a French guy, some skier nobody knows about," and ranted about how people wearing visors were "Europeans and French guys." Cherry was an outspoken supporter of former Toronto mayor Rob Ford. Those are (most of) the major infractions, but the minors come semi-constantly as well. Cherry's focus on the code of hockey and toughness often lead to him calling players he views as weaker than him "sweethearts" and/or any combination of a litany of phrases he has used over the years.
Perhaps most famously, on March 22, 2003 Cherry and Ron McLean entered into an on-air argument about Canada's involvement in the Iraq war, or lack thereof. After the American anthem was booed at an Islanders/Canadiens game in Montreal, Cherry somewhat predictably felt Canadians should be supporting their American neighbours, while McLean asked the logical question of, "Why attack Iraq if they haven't attacked you?" It was aggression versus pacifism, playing out on a government-owned broadcast. The segment is hard to find online today, as CBC quickly scrubbed it from their (at the time otherwise complete) online database of Coach's Corner segments after it caused enough uproar to register over 1500 complaints.
Speaking to Eric Duhatschek of the Globe and Mail soon after the segment, McLean weighed in on the controversy.
"I don't regret what we said or what we did. I thought at the time it felt right — and we went.
"Having looked at the cold, grey light of dawn at it — and also having been told how to look at it, which is fair, that's the democratic process — it did strike a lot of people that it was not the forum to do it in. I can't win that argument and I don't want to win that argument. I'm willing to let it be.
"CBC's philosophy is, it wasn't the right stage; that we're about hockey and we should stick to that. And how can I argue that?"
Cherry, of course, doubled down and went on noted idiot Jim Rome's radio show* to discuss the controversy and how Cherry was treated afterward: "Our media up here is totally left wing," Cherry said. "It's socialist, left wing, pinko, commies. I got ripped to shreds in the left-wing media. That's the chance you take. I don't regret it and if I had to I'd do it over again."
*I recognize the contradiction of saying complimentary things about Cherry while calling Jim Rome a "noted idiot." The difference is Cherry is idiocy with sprinkles of knowledge mixed throughout, and Rome has never taught me anything I didn't already know. Rome is a standard regulation idiot, but Cherry is my idiot.
Do I think that, in this instance, Grapes and McLean were censored? Kind of. They are given a seven-minute window together, and CBC has seen more than enough evidence that it's a freewheeling segment. Should they "stick to hockey?" I don't know about that. As McLean pointed out at the time, and is absolutely true, Coach's Corner has a history of loving the troops and supporting the troops. McLean and Cherry were on different sides of the argument, but their hearts came from the same place. Realistically, this was the only time a lot of people (myself included) would have seen an argument on the topic between two very Canadian individuals, individuals with different perspectives. It's hard to find something more Canadian than two people passionately arguing about a deployment (or lack thereof) of the Canadian military in between periods of a hockey game on the CBC, and then being able to immediately put aside their differences and continue working together for another 15 years without incident. Both sides of the coin were represented, one just happened to be louder than the other.
At the core of most arguments over Cherry's usefulness or lack thereof is the idea that CBC is a government-funded broadcaster, and whether Cherry's opinions are acceptable on a network funded by its government. But here's another stance to look at: in 2003 when the argument occurred, Hockey Night in Canada was a fully CBC production. CBC held exclusive rights to the Hockey Night in Canada brand* until 2013-2014, and since then CBC has licensed the branding to NHL broadcast rights holder Rogers' Sportsnet, who then sublicense Saturday games back to CBC.
*It began as a radio program in the 1930s, before beginning its television run in 1952.
The CBC does not make money, and is constantly under threat of cutbacks and/or extinction. I would be surprised if it still exists twenty years from now, and the only thing that makes me think I might be wrong is that people have been saying things like "I would be surprised if the CBC still exists twenty years from now" for longer than I have been alive. The only thing CBC historically does seem to make money on is Hockey Night in Canada. Most people with the staunchest issues with Cherry are likely those who support the idea of a government-funded broadcaster. So, the question is: do you like public broadcasting enough to tolerate Don Cherry for seven minutes a week?
Thoughts on Cherry have not changed over the years; there are always two sides and those sides remain mostly unchanged. To wit, here are two conflicting views.
Unknown speaker, male: "I think he's a dinosaur. And I don't think he has any place in today's society with the antiquated attitudes that he has towards the world in general."

Unknown speaker, female: "Love those ties. Oh, those button down collars. He's cool. He's a good guy. He should be the Prime Minister, he's got balls and he says what he means."
These quotes are both from the now-defunct radio program The Inside Track, with this particular episode airing on May 22, 1993. Like Cherry himself, the particulars of the complaints have changed, but only ever so slightly. For a long time, he was simply there, and he still is.
To a Canadian of my approximate age or older, hockey was a part of existence when you grew up. If you cared to know, it was very easy to know that Steve Yzerman came from your town; the athletic centre your team practiced in was named after him. It could never be cool to like hockey, a sport Canadian children grew up indoctrinated in. So to be outraged by Cherry was that of being outraged at a monolith: he was always there for you to rage against, as he raged against you in his own way. You disliked that he was given a platform with which to spew said rage, and you hated that he was technically a government contractor. It meant your country sided with a loudmouth idiot, when Canadians like to believe they're exclusively quiet and polite. But the loudmouth is still here, and he's still plenty loud.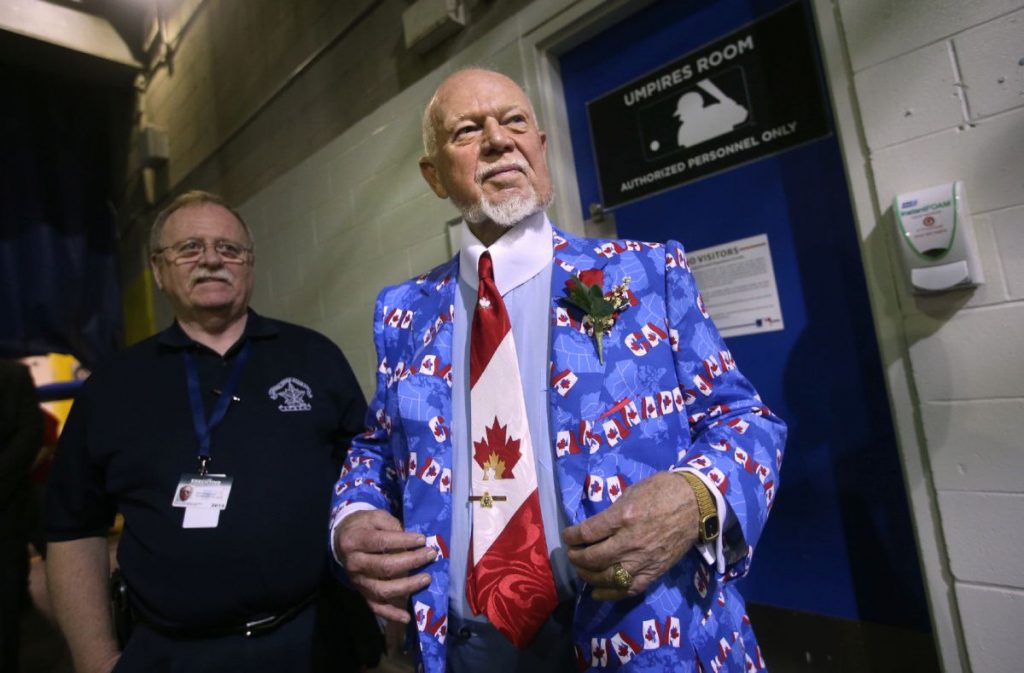 Don Cherry still has his platform even as old age makes him more and more of a caricature. Hockey Night in Canada ratings remain surprisingly high – an average of 1.5 million a week for the 2017-2018 season – and presumably that plays a role in the pit bull keeping his pulpit. In the mid-2000s, when it briefly felt like the traditional Coach's Corner pairing would no longer exist as Ron McLean's contract negotiations hit a wall, there was uproar amongst the people of Canada. Would that still occur if the segment were removed today? I doubt it, but I truly have no idea.
Earlier this season, Grapes started his first proper uproar in some time. As the Carolina Hurricanes began ending their home victories with humourous but ludicrous team victory celebrations, Cherry chose to focus the back half of his February 16, 2019 segment on the antics. Writing out quotes from a Cherry segment is a fool's errand, so just watch the following clip, beginning at approximately 4:31.
The Hurricanes immediately weaponized the segment, announcing that they would be selling "Bunch of Jerks" t-shirts as soon as they could physically print them. Throughout the playoffs, while the celebrations ceased, the t-shirts did not, and they were given away to fans at home playoff games to ensure everybody in the arena was dressed uniformly during the Canes run to the conference finals. When Cherry commented on them again mid-playoffs, calling their fans frontrunners and claiming the Hurricanes are only getting a boost in attendance because they're winning, Carolina almost immediately had "Bunch of front running Jerks" shirts made. Cherry, of course, commented on the uproar again during the playoffs, and his response was hysterical, pointing to an old clip of himself discussing Pavel Bure that lead to similar merchandise, before adding a classic Grapes button by saying: "Somebody's making money and I'm glad to see somebody's making money."
This whole thing is merely Carolina picking an argument with a straw man to unify the team and its fans. Do people in Raleigh know who Don Cherry is? Do people in North Carolina give a fuck about hockey? I would bet a box of Bojangles biscuits that, in most cases, the answer is "no." They're at the dinner table, provoking Grandpa because they can get a rise out of him and think that might be a fun way to pass the time while they wait for dessert. Don Cherry has become the grandfather with views long since outdated, but who has become too old to be harmful. He's just playing out the string.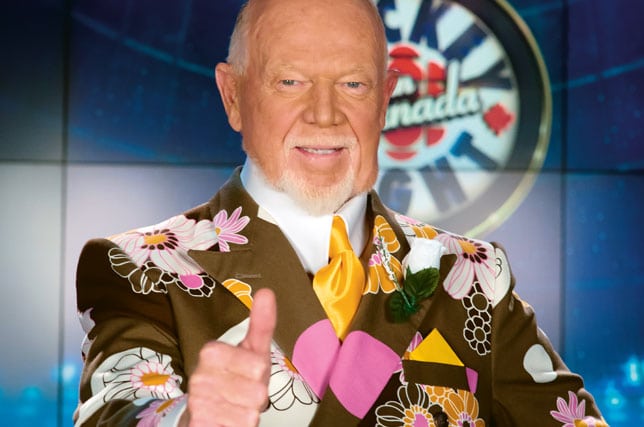 I disagree with Don Cherry on just about everything that matters. I like being Canadian, but if you're a citizen of Sweden who doesn't want to fight me I'm not going to call you the thinly veiled homophobic insult of "sweetheart." I see nothing worth liking in high collars or triple breasted suits. But I love Coach's Corner. I never want it to go away; I want to have a new segment of it every Saturday for the rest of my life.
I suppose there are still people who love Don Cherry authentically, who have never had problems with anything he has said; those are people who are not in my life. Of course, I understand not everybody in my country is like me, and that my inner circle is in no way indicative of the country as a whole. There are apparently still 1.5 million people watching Hockey Night in Canada each week, which means 4% of the country watches, and yet I have nobody in my life who truly cares about hockey. Ipso facto, my circle is not an accurate view of the whole. But increasingly, I realize one only wants to hear a continuation of what they were already hoping to hear, and Grapes might be proof that this has always been the way it is. When Rogers took over the NHL rights in 2013, and it briefly seemed like Cherry would not be making the move, it seemed as though his time was over.
"They've been saying that for 30 years," Grapes said in a CBC interview. "I know I'm No. 1 and Coach's Corner is No. 1 and what are you going to do?"
The appeal of sports is watching a collection of people become reactionary, to stop thinking and let their bodies take over. I spend my days worrying, and then worrying about my worrying, and then writing about the worrying, never immediately reacting and giving in to my first impulse. In professional sports, there's no time to stop and think, or you'll get scored on. I don't want to go back to a reactionary mindset, really, but I want to be able to know how it feels nonetheless, so I can know why we should never go back to it once it's truly gone. And nobody thinks less about what they just said or did than Don Cherry.
"That's Grapes. He wears his heart on his sleeve." This is McLean again, from the same conversation with Duhatschek in the wake of the Iraq War argument. "In our medium, it's so tricky nowadays to discern what is sincere. It's the old Dick Schaap line: 'The key to television is sincerity and once you can fake that, you've got it made.' Don is closer to sincerity than most of us ever get. That's admirable, and I'd hate to see that shot down."
At some point, Don Cherry went from somebody who mattered and who we listened to to somebody who has aged out of meaningfulness and is mostly appreciated as a comedian who doesn't realize he's a comedian. He's a human time machine for seven minutes a week; it's a time I don't want to go back to, but for seven minutes a week I'll laugh hysterically as history crumbles in front of me on television. Ron McLean is accepted and beloved and never for a second seems lost in a pile of nonsense. In most instances, the straight man is smarter than the goofball. The man with the rants and raves will be remembered, but he will fade into memory as a relic of a time we no longer need. The one who nodded and pondered and kept him on time may not be as memorable, but he'll eventually come out ahead. He'll still be there if only because he never quit. Logic will prevail. One day, perhaps.