Alex writes about why Kendrick Lamar is great, why Nicki Minaj isn't, and explains why Lamar's new album is the hip-hop version of Looper.
I probably spend more time thinking about hip-hop these days than I actually spend listening to it. This isn't a negative, necessarily; I might hear less, but I digest more. After hearing Enter the 36 Chambers for the first time in 2002, I proceeded to buy every other group Wu Tang release the next time I was at a second hand record store. The record store clerk, a friendly, headband-loving hip-hop DJ named Res, laughed at my stack of albums before saying, "Do you think you have enough Wu Tang?" He had seen this face before, when I found out about The Roots. He knew what it meant, and he also knew he would see it again, when I heard Jazzy Belle and immediately bought OutKast's entire catalogue. This was basically how I approached music listening in my teenage years: I would hear a great record by an artist, and then immediately buy everything they made, even if one of those things happened to be Iron Flag. I assume I was not alone, as the look Res gave me seemed well-practiced. Now, though, I approach music differently. I'll hear new music, and if I like it, I'll listen to it a few times, and then I'll move on. Fewer things stick with me long term, because there are fewer great albums for me to find; I'm caught up on the past, so now I have to actually wait for these things to be released to listen to them. Recently though, this feeling happened again.
Kendrick Lamar's new album good kid, m.A.A.d. city is – put simply – really, really good. The beats are gorgeous, the lyrics complex, and Lamar's flows are ever-changing and adventurous. It's the best hip-hop record I've heard since My Beautiful Dark Twisted Fantasy, and good kid, m.A.A.d. city continues to get better even though I already know pretty much every word. Even the overused crutch of voicemail skits running through the record are interesting; the whole album is cohesive not just in tone, but in actual storytelling. This isn't a concept album, per se, but it certainly does not lack a concept. It doesn't sound like anything in modern popular hip-hop which is partially because, at times, it sounds like records that were released in the 1990s. Lamar himself occasionally flows like he's trying out for a spot in Bone Thugz N Harmony. MC Eiht's cameo over the bonkers beat on m.A.A.d city is pure 1990s West Coast, as proven by the appearance of that high-pitched whistle from every G-Funk song ever recorded. Other songs don't feel that far removed from some of OutKast's work; I am not the first person to say that the beats and rhymes on songs like Sherane a.k.a. Master Splinter's Daughter and Sing About Me / I'm Dying of Thirst are reminiscent of early Andre 3000 and Big Boi. But that is not to say good kid, m.A.A.d. city is obsessed with the past, as most hip-hop albums that do this are immediately satisfying before falling apart on repeated listens. Lamar's album might be a throwback in some ways, but that is not to say it lacks modernity. It does, however, lack the shittier aspects of modern hip-hop.
Nicki Minaj makes horrible music that is extremely popular. I understand why this happens, and I hate it. When a friend recently called Minaj 'smart,' I pointed out that perhaps she's just savvy, which is good for her business, but bad for my ears. Minaj is probably the most visible rapper in pop music right now, even though her most popular songs aren't even primarily rap songs. But she is known primarily as a rapper, if only because she has been rapping since day one; if she put out a record of ukulele-based Matchbox 20 covers tomorrow, the first line of every review would still contain the phrase 'rapper Nicki Minaj.' She is the modern rap star: she raps, she sings, and she will do whatever it takes to become the biggest star on the planet. And since stardom is almost entirely driven by the youth, Minaj attacks them with shit that will never lose their attention. Two of her most omnipresent singles, Starships and Pound the Alarm, have been songs for people with A.D.H.D., which seems to include most kids on Twitter. These are the pop song equivalents of a series of clips of 'fails,' being immediately satisfying, and then continuing to be so for the rest of the duration. Starships has approximately eight hooks in its 210 seconds, and Pound the Alarm does more or less the same, except this time Minaj fills all its dead space with an abrasive horn sound, just in case you happened to fall asleep in between hooks. These songs are constructed to be catchy, but then also be catchy in a totally different way approximately eighteen seconds later. They're smartly made, if your definition of smart is extraordinarily cynical. While the attention span of pop listeners has been slowly decreasing, the evolution of ProTools has created a significant jump in this process – when you can re-edit anything on a whim to make it more engaging, you will. And pop producers have.
That is not to say Kendrick Lamar's album is made exclusively for patient people. This is a rapper who has recorded a song literally called A.D.H.D., and good kid, m.A.A.d. city features enough musical interludes and voicemail skits that it would have been approximately 25 tracks long if everything was split up separately. But while Lamar's songs certainly have a lot going on production-wise, there is something about the general mentality of the record that is different from his peers.
Had I been listening to this album with no prior knowledge and been asked to guess which song was its first single, I almost certainly would have been incorrect. I assume I would have guessed Poetic Justice, due to its appearance by one Aubrey Graham, but I would not have been certain that guess was correct. I certainly wouldn't have expected it to be Swimming Pools (Drank), given that the song is specifically encouraging its listeners to not go out to the club, the place where all hip-hop singles are meant to catch on in order to make their mark. Jay-Z famously set the blueprint (by way of The Blueprint) for every post-2001 hip-hop album: you need one of your singles to be a danceable song, you need another song for the ladies, and you also probably need something for the more hardcore hip-hop fans to make sure nobody thinks you're soft. Pretty much every really popular non-Eminem* rap album for the next eight or so years followed this. Get Rich or Die Trying had In Da Club and 21 Questions. Graduation had Stronger and The Good Life. Then hip-hop became even more pop music influenced, and Minaj rose to prominence with similar – if even poppier – formulae. But Kendrick Lamar's first single stares right in the face of these concerns, and moves right on past it. Minaj's singles can only be enjoyed by kids and drunk people, while Lamar seems to be advocating to the kids to think about that second part. Maybe don't drink so much, Lamar says in the song, because then you might enjoy songs like Pound the Alarm. Lamar spends the song rapping about drinking, and how it can turn into a never-ending cycle of alcohol abuse, which is pretty crazy for what has become a moderate-sized pop hit. And while Swimming Pools hasn't exactly burned up the charts, it's a hit single, and the kids know about it. Which is a start.
*Who had his own formula: song where you hate on your mom, song where you hate on your fans, song where you hate on Christopher Reeve, etc.
Recently, I was sitting across the aisle from a girl while on a lengthy bus ride. She was continually changing the song playing on her iPod and, since I'm a habitual eavesdropper, I periodically checked what she was listening to. This girl was flipping from pop single to pop single, from Skyfall to We Are Never Ever Getting Back Together, seemingly never happy with what followed the previous song until she had control over it. She was listening to some hip-hop as well, albeit a Kanye West song where West spends most of his time singing. It seemed unlikely that Swimming Pools would show up on this iPod, and it never did. good kid, m.A.A.d city doesn't have any songs on it that will become so ubiquitous that your mom will know the words to the chorus. But it is present in popular culture, if only at the fringes. For now.
This week, Taylor Swift sold 1.208 million copies of her new album, Red. That number would be astounding in 2002, let alone 2012, but a sales week that was almost as interesting was that of Kendrick Lamar. In a time when seemingly nobody buys music – and hip-hop was a notoriously bootlegged genre even before Napster – Lamar sold 241 000 albums in a week, for the second highest single sales week for any rapper in 2012; only Nicki Minaj sold more. And while Minaj sold more copies of Pink Friday: Roman Reloaded in a week than Lamar did of his album, the gap wasn't as great as one might think, with Lamar only selling approximately 10 000 fewer copies. He might not be as ubiquitous as Minaj, but that he can nearly match her sales (at least in week one, if not week 26) is more than slightly comforting.
I recognize that I've spent 1500 words writing an alleged record review without spending much of it really reviewing the record itself. A lot of critics have done this when talking about Lamar; there is a critical movement that sees Lamar as a new hope for hip-hop, typically spending more time talking about why Lamar is good for hip-hop than why his album is good hip-hop, which I am (clearly) not immune to. But it is. It's stellar. The whole record feels almost like the hip-hop record version of Rian Johnson's recent film Looper. Lamar sees various cycles in his life, from violence to substance abuse – not unlike a young Joseph Simmons* – and he decides to take himself out of them. The narrative throughout the album is winding and engaging, employing timeshifting and referencing events from songs earlier in the album, making a hip-hop album that is more interesting than most. On a purely musical level though, the record is simply enjoyable to listen to. All the influences from Lamar's youth are present on good kid, m.A.A.d city; it is not hard to picture a young Lamar becoming obsessed with OutKast's music, if only because The Art of Peer Pressure sounds like a lost track from ATLiens. Echoes of other great rappers from Nas to Nelly are present throughout the album, but what Lamar does with his influences becomes something new and interesting.
*Which, coincidentally, is the birth name of Rev. Run of Run-DMC, a rap group that Lamar (and all popular rap acts) are forever indebted to.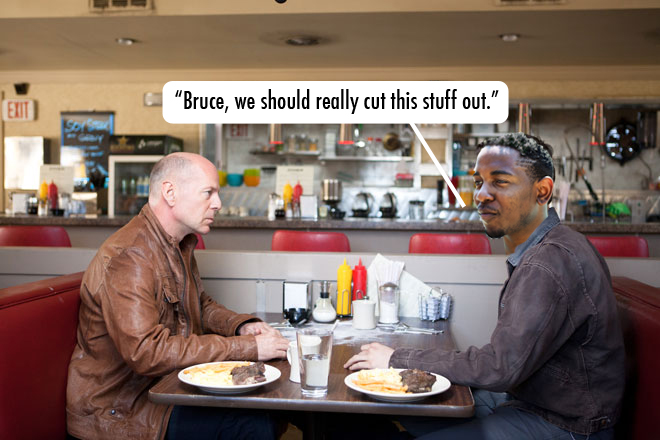 There has been too much talk over the past decade from critics and rappers themselves about how hip-hop is dead, and all of this talk was and remains untrue. There were always good records being released – if at a less frequent clip than in the late 1980s and mid 1990s – but sometimes they were a bit harder to find. Hip-hop was younger in its so-called golden age; part of what made all of these great releases possible was the mere fact that there used to be more uncharted territory to explore in the genre. But like all things in art, hip-hop is cyclical, and popular hip-hop was turning more down than up at the turn of the millennium. Today, though, we have artists like Drake making up for his shortcomings as a rapper and singer with beautiful song composition. We have Big K.R.I.T. making great, dense productions, and being an honest, likeable rapper over them. We have Kendrick Lamar releasing good kid, m.A.A.d. city. And all of these rappers' work are being heard not just by people like me in 2012, but people like the person I was in 2002. These rappers are people who semi-regularly trend on Twitter, for reasons mostly related to their music. For all the talk that kids have less and less of an attention span these days, the kids like Kendrick Lamar, and his is an album that is pretty fucking difficult to fully digest. Teenagers will hear this record, love it, and then immediately buy Section.80 on iTunes. Maybe they'll love that too, or perhaps they'll be disappointed. But they'll nevertheless eagerly await the release of Lamar's next album, and they'll spend the downtime seeking out similar artists, and generally consuming as much hip-hop as they can. They might not immediately spend a lot of time thinking about it right now, but when we're listening to rap music in 2022, we'll all be happy they found Kendrick Lamar.
Alex writes about film and pop culture because he has no life. You can subscribe to his weekly podcast with James here, follow them on Twitter, or continue to read about whatever pops into their head here.